The Chef behind Eggert Culinary Innovations, LLC
Chef Andrew Eggert, CEC, AAC
Eggert Culinary Innovations LLC and its Principle, Personal Chef Andrew Eggert, CEC, AAC, set itself apart by the high level of customization and passion offered though the personal chef services. Personal Chef Andrew works tirelessly to provide Greater Grand Rapids Michigan and its surrounding areas memorable, Innovative and one of a kind custom tailored truly personal chef experience.
I have been a part culinary industry in Grand Rapids Michigan for over 20 years, with the majority of those years spent in fine dining and over 10 years as a Personal Chef. I completed my formal culinary training as and aspiring Chef to be here in Grand Rapids Michigan at the world renowned Grand Rapids Community College, and the Secchia Institute for Culinary Education. This nationally recognized program boasts an international staff and is accredited by the American Culinary Federation. I have also accomplished my Bachelors degree from Grand Valley State University in the study of Liberal Arts with an emphasis in business and science and given the title of Business in Society. Rounding out my education and allowing me to pass along what I have learned as a Personal Chef here in Grand Rapids is my education from Ferris State University Masters in Career and Tech Education.
The majority of my fine dining experience comes from my years of service at Kent Country Club in Grand Rapids and Sunnybrook Country Club in Grandville. I have also had stints in college, institutional, corporate, arena and various other aspects of food service. During my time as chef in the private settings I have become especially poised to listen and accommodate all ranges of individual and special requests to be able to personalize every event. As a result I am quite accustomed as a Personal Chef and as Eggert Culinary Innovations LLC to be able to meet individuals wants and needs. Making every event and service from Eggert Culinary Innovations LLC and as a Personal Chef always tailored specifically to and for you. I have used this set of skills to create a truly personal, personal chef experience for my clients.
As a Personal Chef, when it comes to creating dishes I pride myself on utilizing local and sustainable products and purveyors whenever possible. I also make a conscious effort to make your chosen dishes as healthy as possible, all while enhancing the flavor and integrity of the final dish all in order to meet your personal expectations.
During my time in the culinary industry of Grand Rapids Michigan I have been honored to be recognized by my peers. As an active member of the Greater Grand Rapids Chapter of the American Culinary Federation I have been recognized by my peers as a Junior Culinarian of the Year in 2007. And as a Professional Member I was honored to be recognized again by peers as the Chef Professional of the Year, Chef of the Year and most recently as Chef Educator of the Year.
In addition to these humbling awards I have also competed and metaled in two food competitions. I also have served on the local chapter of the ACF as Vice president, President, and currently as Chairman of the Board, as well as various other chairs. I have also completed the certification process governed by the National American Culinary Federation to earn the Certified Executive Chef (CEC) status. I was also honored to be inducted into the American Culinary Federations Honor Society, the American Academy of Chefs in 2018.
I also continue to stay educated on the rules, regulations, and best practices for saftey and sanitation. I have held a Serve Safe Certificate though the National Restaurant Association for about 20 years, re-certifying every three years.
It is your overwhelming joy, as a Personal Chef, that I crave and strive to meet and exceed. And it is my mission to prove that Eggert Culinary Innovations LLC - Personal Chef Services accomplishes and exceeds this goal for every personal chef event and culinary experience.
Chef Andrew Eggert, CEC, AAC
Principal and Chef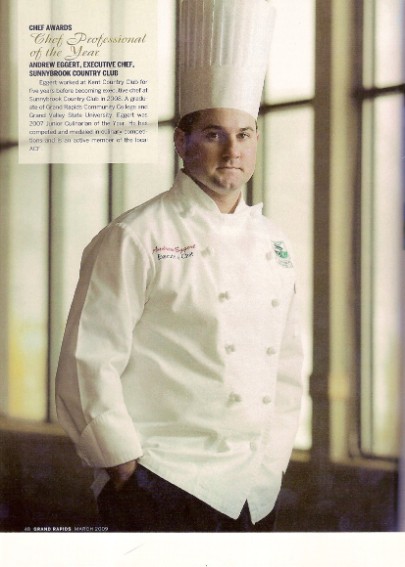 Supporting our Community:

Stay Current with Social Media
click the links to follow:
Eggert_Andrew
EggertCulinaryInnovationsLLC