A Little Bit About What Makes This Chef Unique
Eggert Culinary Innovations LLC sets itself apart by the level of personalized personal chef services that it offers. If there is a personal chef service that you can think of I offer it, and if not I would custom tailor one for you.
I have been in the culinary industry for over 15 years, with the majority of those years spent in fine dining. I have obtained a Bachelors degree from Grand Valley State University in the study of Liberal Arts with an emphasis in business and science and given the title of Business in Society. I have also completed my formal culinary training at Grand Rapids Community College, and the Secchia Institute for Culinary Arts. This nationally recognized program boasts an international staff and is accredited by the American Culinary Federation. I also am continuing my education in pursute of a Masters in Career and Tech Education from Ferris State University.
The majority of my fine dining experience comes from my years of service at Kent Country Club in Grand Rapids and Sunnybrook Country Club in Grandville. I have also had stints in institutional dinning , corporate sector, arena dining and various other exerts. During my time at these two private settings I have become especially poised to listen to and accommodate all ranges of individual and special requests. As a result I am quite accustomed to people's individuality and your service will always be tailored specifically for you. I have used this set of skills to create a truly personal experience for my clients.
When it comes to creating dishes I pride myself on utilizing local and sustainable products and purveyors whenever possible. I also make a conscious effort to make your chosen dishes as healthy as possible, all while protecting the flavor and integrity of the final dish.
During my time in the culinary industry I have been recognized for my work in multiple ways. As an active member of the Greater Grand Rapids Chapter of the American Culinary Federation I was recognized by my peers as a Junior Culinarian of the Year in 2007. Then latter when I had progressed to full member status I was honored to be recognized again by peers as the Chef Professional of the Year. As a result f both of the awards I was also featured in the Grand Rapids Magazine. In addition to these humbling awards I have also competed and metaled in two food competitions. I also have served on the local chapter of the ACF as Vice president and currently as President, while holding various chairs.
As well as being recognized and honored by my fellow peers in the industry I also enjoy positive feedback from my customers. It your satisfaction and joy that I strive to meet and exceed for every culinary experience.
Chef Andrew Eggert, CEC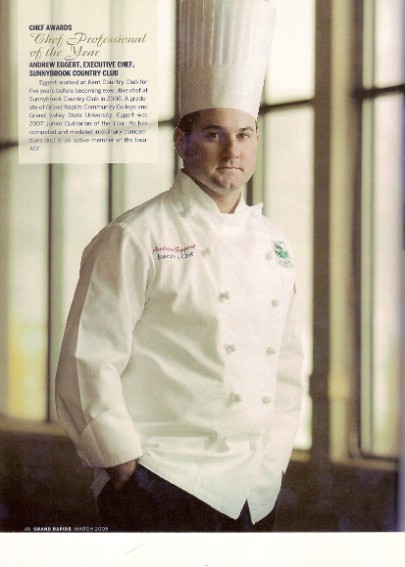 Interview with Shelly Irwin September 23, 2013.MP3